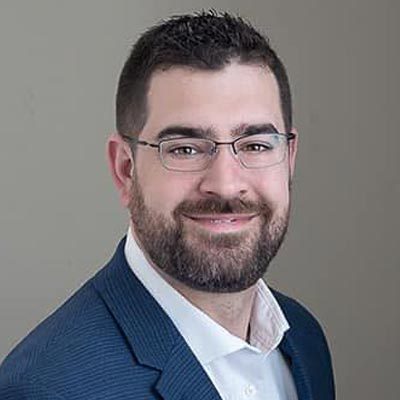 Chiropractor
Nick Novakoski D.C.
I graduated from Logan University in 2014 with my Doctor of Chiropractic degree. My first job out of chiropractic school was working for LifeTime Fitness. I worked with high level athletes and learned how to develop complex care plans integrating pilates, yoga, personal training, massage therapy and physical therapy.
While I thought working with athletes was very interesting, I LOVED working with families. In 2016, I opened Nova Chiropractic with this in mind. I wanted to create a clinic that would deliver the highest quality of chiropractic care and create an environment where our patients felt like family.
My focus switched to training on techniques that would work well within a family practice. I started training with the International Chiropractic Pediatric Association (ICPA) and became Webster certified, the gold standard in prenatal chiropractic. I continue to work with the Pediatric Experience, a network of hundreds of chiropractors that train weekly to stay up to date on the most recent techniques and trends.
Through this extensive training, I started using Sacro Occipital Technique (SOT) on my patients, and they started seeing AMAZING results! SOT utilizes a systemic and systematic approach to restoring optimal function of the nervous system by using specialized integrated procedures that involve functional chiropractic neurology and biomechanics, soft tissue techniques and craniopathy. I continue perfecting my craft by training regularly with Peak Potential Institute, the Pediatric Experience and Sacro Occipital Research Society International (SORSI).
In my free time, I enjoy spending time with my wife Erica and my daughter Claire. I've been drinking the Lion's Kool-Aid for far too long and can't wait for them to bring a Super Bowl to Detroit.
Charlotte
I joined Nova Chiropractic May 2018 as a Practice Representative. I took a step back from the chiropractic community in order to advance my career in the event industry; however, it was impossible for me to stay away from this team! I have such great respect for Dr. Nick and the work he provides to his patients and seeing them progress towards their goals. We have become a very close family and never put less than 100% into our work because of the importance we see in chiropractic.
Milo
I'm a cockapoo and was born on March 18th, 2018 in Noblesville, Indiana. I started working as the office greeter here at Nova Chiropractic at just 9 weeks old. I have completed advanced dog training through Canine Academy and graduated with honors receiving my AKC Community Canine Good Citizen certification. I decided to go back to school to learn how to better help our patients and I am currently working on my therapy dog certification.
In my free time, I enjoy naps, squirrels, tug of war, and treats. I do not shed and am typically very well behaved, but if you prefer your space, just let us know!
OFFICE HOURS
---
Monday
12:00pm - 7:00pm
---
Tuesday
7:00am - 2:00pm
---
Wednesday
12:00pm - 7:00pm
---
Thursday
7:00am - 2:00pm
---
Friday
8:00am - 12:00pm
---
Saturday
Closed
---
Sunday
Closed